S/3 Artisanal Face and Hand Soap with Borage Vegetable Oil & Ylang-Ylang Essential Oil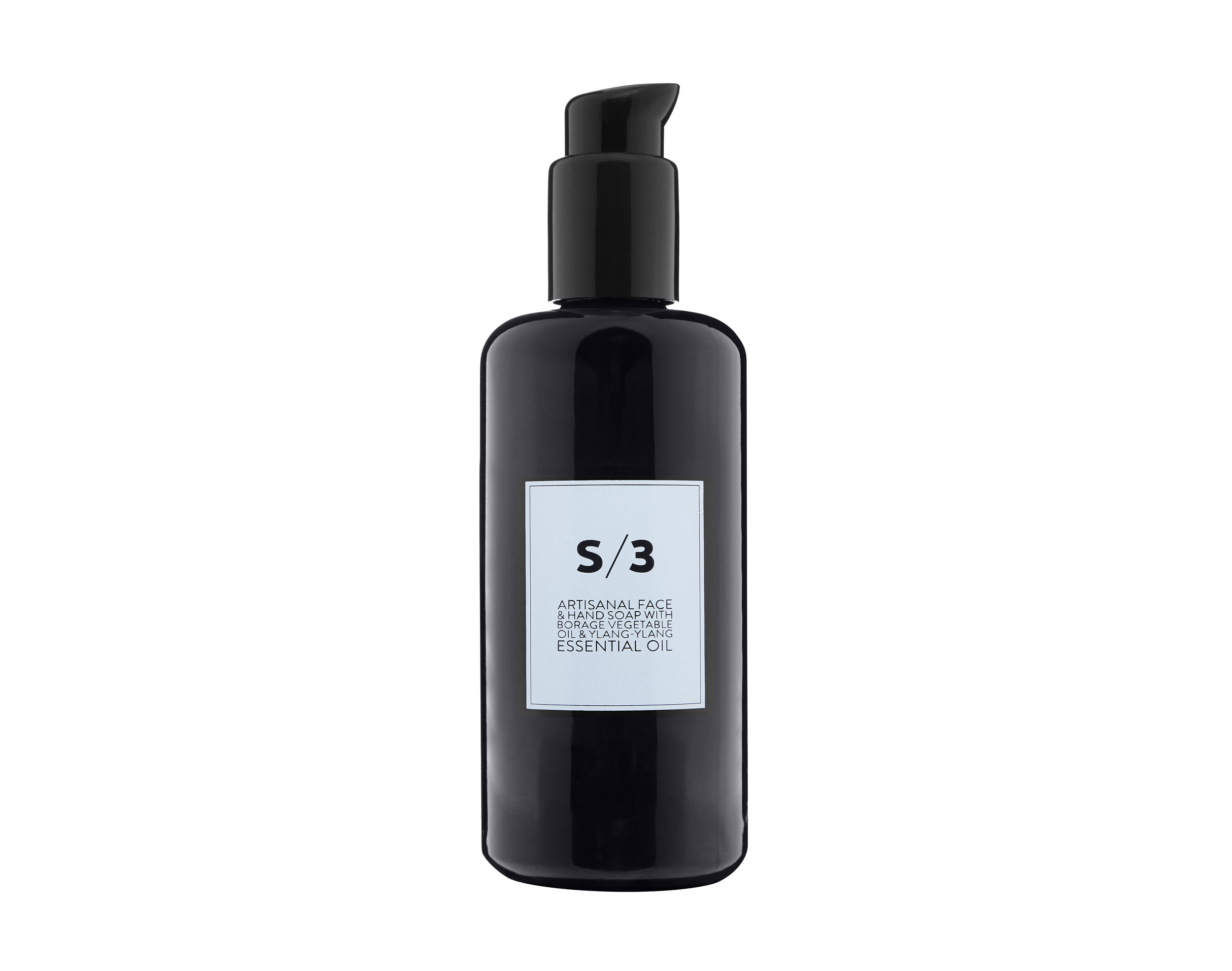 S/3 Artisanal Face and Hand Soap with Borage Vegetable Oil & Ylang-Ylang Essential Oil
This nectar-like liquid soap can actually be considered a skincare product: it nourishes, soothes and protects your skin like a moisturiser.
Our specially-designed violet glass bottle - protecting organic components against UVs - also feature a special "slow pump" delivering the liquid soap economically.
Benefits of S/3 Face & Hand Precious Liquid Soap
This soap is infinitely more concentrated than your usual liquid soap: it is rich in glycerin, contains a minimum of water and a maximum of active natural components, and no chemical foaming products or synthetic fragrances of course.
S/3 can be used with any skin, and is recommended for sensitive skins: the combined effect of borage, ylang-ylang and benzoin enable to soothe and repair the skin, and recover its elasticity and moisture.
This soap's extraordinary - and quite strong - smell comes only from its ingredients: you literally breathe in the plants used to make it.
One short press of the pump is enough to wash your face and hands and enjoy its benefits fully.
Content
200ml 6.76fl.oz
VEGAN LIQUID SOAP HANDCRAFTED IN FRANCE WITH MORE ACTIVE PLANT INGREDIENTS
Aqua (water), cocos nucifera oil (coconut oil)*, ricinus communis seed oil (castor bean oil)*, olea europea fruit oil (olive oil)*, potassium hydroxide, borago officinalis seed oil (borage vegetable oil)*, sodium chloride, cananga odorata flower oil (ylang-ylang essential oil)*, alcohol, styrax tonkinensis resin extract (benzoin resin extract)*, benzyl benzoate°, benzyl salicylate°, farnesol°, geraniol°, linalool°.
* Organic ingredient
Virgin oil/butter obtained by cold pressure
° Naturally occurring allergen from essential oils
"As with any soap, avoid eye contact. If contact occurs, rinse thoroughly with clean water."
YOUR SKIN MAY ALSO LIKE...
MORE DETAILS ON S/3'S BOTANICAL ORGANIC FORMULA
Cocos nucifera oil (coconut oil)

Coconut oil is obtained by expression from the dried inner flesh of the coconut, Cocos nucifera. Coconut oil is is high in protective antioxidants and antibacterial fatty acids. It suits all skin types and is light, non-greasy and rapidly absorbed giving deep hydration and conditioning to skin, scalp and hair. Research shows it can improve skin elasticity helping prevent premature ageing and wrinkle formation.

Ricinus communis seed oil (castor bean oil)

Castor bean oil is a vegetable oil known to be effective at healing inflamed skin, reducing acne, fading blemishes and stretch marks, preventing stretch marks and pigmentation, moisturizing skin fighting the different visible signs of ageing. It also helps formulas maintain a smooth consistency in a variety of climate conditions.

Olea europea fruit oil (olive oil)

Olive oil is very rich in fatty acids and antioxydants. Olive oil is well known for its virtues of hydrating and restoring the skin's hydrolipidic film, elasticity and suppleness.

Potassium hydroxide

It is the lye component used for liquid soaps, and is completely eliminated during the soap making process (saponification).

Borago officinalis seed oil (borage vegetable oil)

Naturally rich in vitamins A and E, and Omegas 3 and 5, borage is recommended for dry skin, itching, and skin disorders with inflammation, due to the high proportion of gamma-linolenic acid, as a gamma linolenic acid deficiency can result in itching and dry skin. It has a positive effect on the barrier function of the epidermis. It improves skin appearance, primarily if skin is dry and scaly.

Sodium chloride

Table salt is used as a blooming agent of our emulsions.

Cananga odorata flower oil (ylang-ylang essential oil)

Ylang-ylang is well known for its stimulating properties and is particularly useful as a tonic for the circulatory system and to help with the stresses and strains of everyday life on your skin. It will balance areas with uneven skin tone.

Alcohol

Alcohol obtained from the fermentation of organic wheat, it is used for its refreshing effect.

Styrax tonkinensis resin extract (benzoin resin extract)

Styrax benzoin is a species of evergreen tree. Its main benefits include its antiseptic, anti-inflammatory and astringent properties, as well as protecting the skin by forming an invisible film that prevents moisture loss, improving skin's elasticity and smoothing it.

Benzyl benzoate

Benzyl benzoate is a naturally occurring component of essential oils, such as jasmine, ylang-ylang, rosewood and benzoin oils. It is also known to improve the scent of cosmetic products.

Benzyl salicylate

Benzyl salicylate is a naturally occurring constituent of essential oils, including cananga and ylang ylang oils. It has a fixating effect on floral scents.

Farnesol

Extract of lily of the valley, rose, essential oils of camomile, sandalwood, lemon-grass, palmarosa etc. Deodorising agent, it destroys bacteria.

Geraniol

A fragrant oil component, geraniol is a natural compound of the essential oils of rose and palmarosa. Also present in essential oils of geranium, lemon and citronella.

Linalool

An aromatic compound present in its natural state in the essential oils of lavender and lavandin, scots pine or peppermint, as well as many plant extracts.